Review: A French Taste Adventure at The French Connection
A year ago restaurant The French Connection (TFC) reopened at the Singel, heart of Amsterdam. In 2015 the restaurant was opened but then with a more 'French tapas' feature. That worked less well than thought, and thus a new culinary French vision was worked out: 10 varied à la carte dishes (inspired) inspired by the French regions. We went to taste.
Praise for the host
TFC is located in the basement of the Odeon building (known for many). As soon as you step in, leave the busy city behind you and end up in a beautiful, historic setting where a pleasant ambiance hangs. The same warmth we feel when we are caught by the night's ministry. And especially our host. Nothing but praise for this young man, who makes you feel welcome as a guest, knows a lot about everything we eat and drink and know this in a contagious passionate way. A good entry soon!
Culinary under the pans
We are served a 5 course dinner from the kitchen of the young chef Jef van den Hout. We choose both a vegetarian variant and a meat / fish variant. The dishes are always served very well in terms of timing. You really are a whole evening culinary under the pans, without having to eat you all the way. All dishes are pretty proportionate, making it never too much.
Heavenly gnocchi
Dishes that look really delicious, both in terms of taste and taste, are tomato, strawberry and mustard ice cream, egg salad with eel and a crispy sauce bread, gnocchi and bisque. I have not tasted such a soft, perfectly cooked gnocchi, delicious. Only thing to notice was the size of the piece of duck breast that my table partner had. That could have been something bigger.
In addition, a different wine is poured out at each dish. In addition, we are positively surprised by the types of wine and the combinations that are made. So we drink a surprisingly tasty Grüner Veltliner from Austria (Sohm & Kracher), not so French, but a nice trip. For dessert, we finally get a glass of Willem's Vermoedserved (the roots are also in Amsterdam's Hortus Botanicus), a perfect finish for a very successful culinary evening.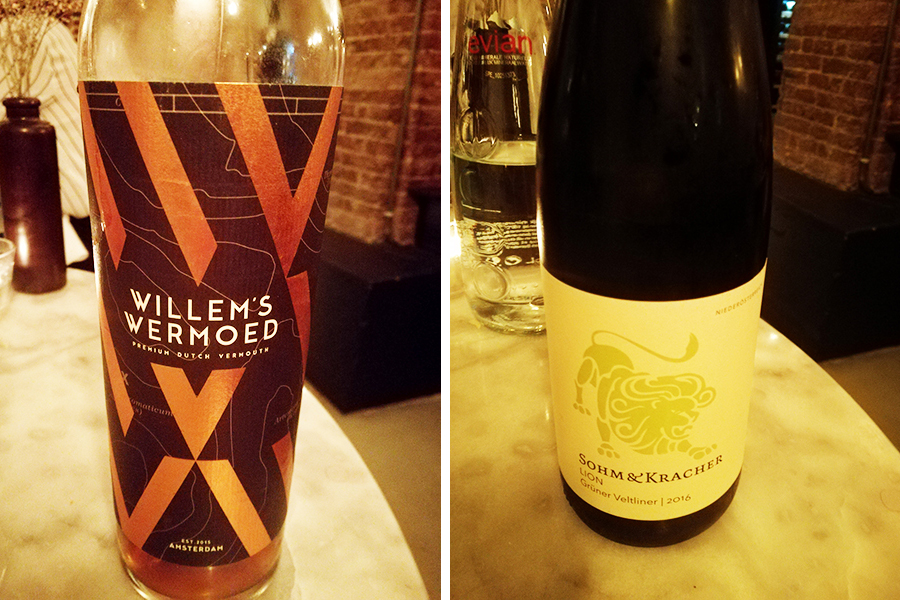 Amsterdam is full of restaurants. Especially in the center it is difficult to choose. But if you want to escape the hustle and bustle, are you prepared to spend something more than average (a 5-course dinner costs 49 Euro) and would you like an evening-filled tasteful dinner? Then this place is definitely the place to be.